Omori Diamonds inc. specializes in creating beautiful custom jewellery, wedding rings and custom engagement rings in Winnipeg. Book a free appointment and meet directly with our designer to receive undivided attention in creating a unique and beautiful engagement ring "just-for-her".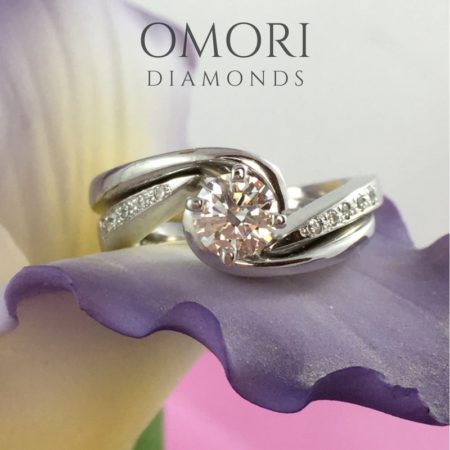 In today's entry of the Omori Diamonds inc. Winnipeg engagement ring journal, we are going to talk about a design we created a while back for a special couple. This engagement ring features a single diamond and a unique spiral band. One interesting aspect about the creation of this design is that it was originally carved in wax by hand. Although there are many times where we use CAD (computer aided design), it is also great to be as hands on as possible, as this allows the designer to really get "in the zone" when working on a design. There is something about the approach of carving the shape of a design by hand that allows creative ideas to really flow!
The design process…
We began the design process by discussing ideas for the design with the client. After the initial consultation we settled upon a unique spiral solitaire engagement ring design. After creating some hand renderings and sketches, our designer carved the shape in wax.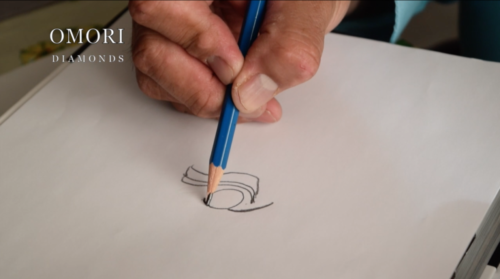 Once the wax carving was completed we showed our client so that they could approve the design or suggest any changes. This stage allows the client to suggest further alterations which can then be done by hand.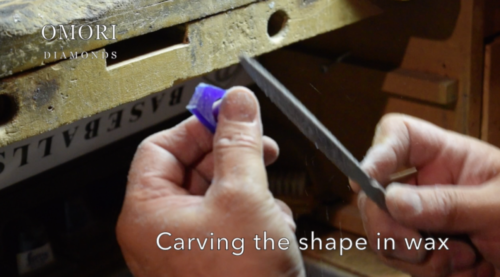 With the wax design completed and approved we were even able to place the diamond claws in the ring so that we could get a clear idea of how the engagement ring would look when it was finished.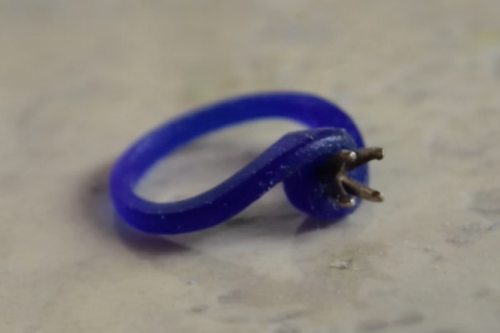 Onto the casting…
Now that the shape was completed we had the engagement ring cast in white gold. As you can see from the below picture, white gold appears quite dull before it is polished. After carefully looking over the design to insure everything was perfect, we decided to move on to the final stage in the engagement ring design process.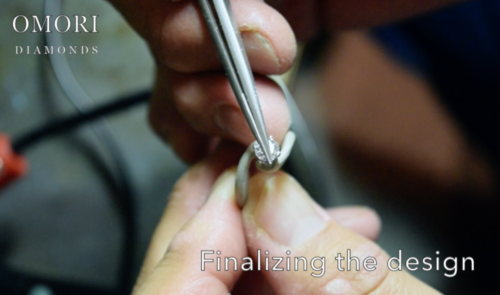 Setting and polishing…
With the engagement ring design cast and ready to go, our expert goldsmith polished the design and set the bright and beautiful centre diamond. One of the great things about solitaires is that they allow the centre diamond to draw all the attention and shine spectacularly. For this reason, we always insure that our diamonds are selected for their ability to reflect the maximum amount of light back out the top so that they shine magnificently with fire and scintillation.
Learn more about diamonds on our diamond education page.
With the design completed we called our client to pick up their custom Omori engagement ring design. As you can imagine, both he and his finance were extremely happy and thrilled. In fact, we were also very pleased to have them return to create a matching wedding ring.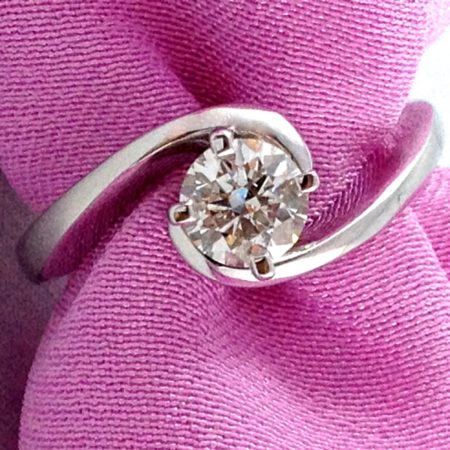 The matching wedding ring…
It is always a great honour for us when clients return to have a custom wedding ring created to match their engagement ring. In the case of the solitaire we have been showing you, we created a beautiful interlocking wedding band featuring a row of diamonds on either side. This added some elegant texture and contrast to the design.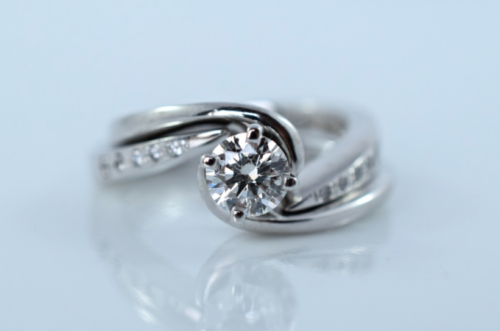 Get a closer look at this custom engagement ring design: view the video here.
Want to see other videos of our jewellery designs? Check our our design videos
FREE CUSTOM ENGAGEMENT RING DESIGN CONSULTATION IN WINNIPEG
Are you ready to design a custom diamond ring from scratch? Book a free custom jewellery design consultation with Omori Diamonds inc. now!
CHECK OUT PREVIOUS ENTRIES OF OUR WINNIPEG ENGAGEMENT RING JOURNAL:
Winnipeg Engagement Ring Journal 8: Vintage Sapphire Engagement Ring
Winnipeg Engagement Ring Journal 7: Platinum Princess Cut Diamond Engagement Ring
Winnipeg Engagement Ring Journal 6: Princess Cut Rose Gold Engagement Ring
Winnipeg Engagement Ring Journal 5: Marquise Diamond Halo Engagement Ring
Winnipeg Engagement Ring Journal 4: Vintage Engagement Ring With Engraving
Winnipeg Engagement Ring Journal 3: Rose Gold Sidestone Engagement Ring
Winnipeg Engagement Ring Journal 2: Custom Diamond Halo Engagement Ring
Winnipeg Engagement Ring Journal 1: Winding Sidestone Engagement Ring
Custom Jewellery Winnipeg Blog: Platinum and Ruby Custom Ring
SaveSave
SaveSave
SaveSaveSaveSave