Omori Diamonds inc. creates beautiful custom engagement rings in Winnipeg. Book a free appointment and meet directly with our designer to receive undivided attention in creating a unique and beautiful engagement ring "just-for-her"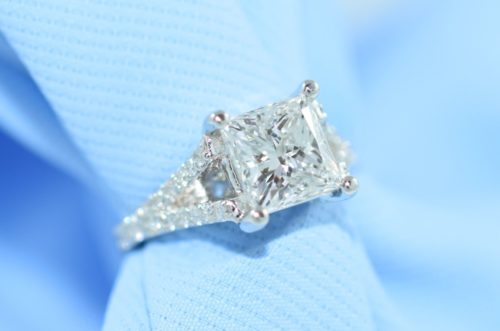 In today's entry of our Winnipeg engagement ring journal, we are going to show you a stunning and elegant platinum engagement ring design. We created this design for a special client and family friend and it has become another favourite on social media, where numerous people have commented enthusiastically on its photographs. This engagement ring not only features a brilliant centre diamond, but also an elegant split band with diamonds running down either side. Another unique feature is the criss-cross claws which create a stylized pattern on the bridge.
A bit about platinum…
Platinum is a precious metal which is known for its white shine and everlasting durability. One of the unique features of platinum is that it is more malleable than gold which means that any scratches which occur over time can be easily smoothed out, making the ring look just like new again. This makes it an excellent choice for engagement and wedding rings.  It is also quite a bit heavier, giving the piece of jewellery a more substantial feel.
The design process…
This design began with the client showing us some images of designs that he loved. As is often the case, we then createdCAD renderings for him to view. CAD refers to computer aided design.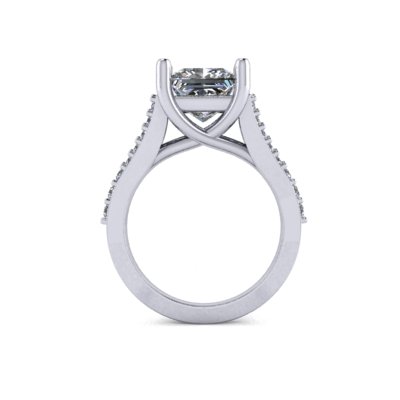 The great thing about CAD images is that they give the client a multi-angle look at how their design will appear when it is finished. At Omori Diamonds inc. we are proud of our communication skills in terms of helping our clients realize the perfect engagement ring design, made to match their style and preferences. At this stage, the client can also make any alterations or adjustments to the design, before we move forward and have the design created in wax and then cast in precious metal.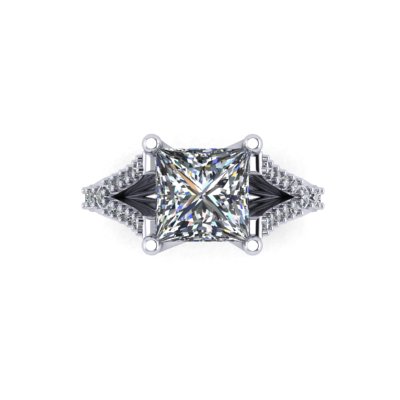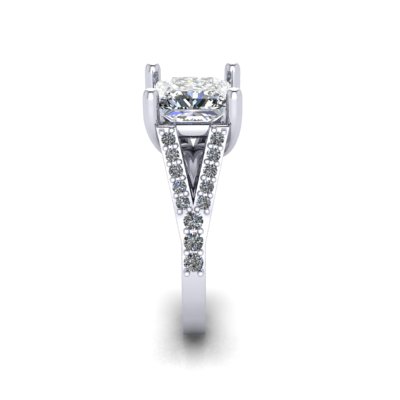 Onto the casting…
The next stage in the design involves having the engagement ring shape printed out in wax for the client to view and approve. This is often a favourite stage among our client, as it lets them see their custom engagement ring come to life. Once the wax shape is approved we then cast the shape in precious metal. In this case, we cast the custom engagement ring in platinum.
Finalizing the design…
As you can see in the above images, showing the platinum engagement ring castings, the ring had not yet been polished. With the casting completed, we moved on to the final stage. Our expert team polished the design and set the bright and beautiful diamonds, including the spectacular G.I.A. certified princess cut, centre diamond.
With the design completed, we contacted our client to come and view their design, needless to say, they were very happy and thrilled at seeing their custom Omori Engagement ring in its completed form!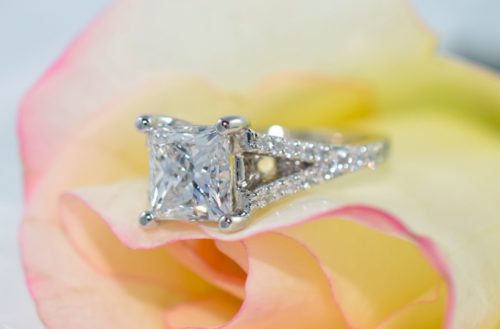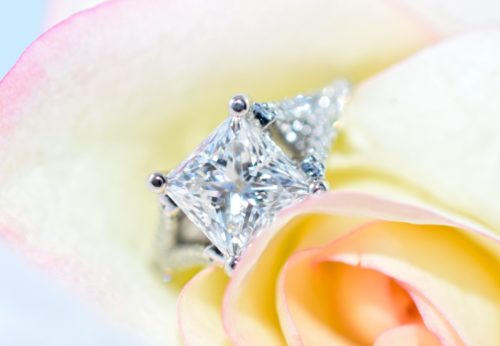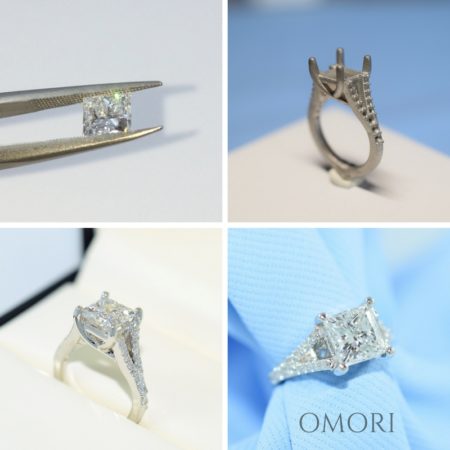 Want a closer look at this custom Omori Diamonds inc. engagement ring design? Check out the video HERE!
FREE CUSTOM ENGAGEMENT RING CONSULTATION IN WINNIPEG
Are you ready to design a custom diamond ring from scratch? Book a free diamond ring design consultation with Omori Diamonds inc. now!
CHECK OUT PREVIOUS ENTRIES FROM OUR WINNIPEG ENGAGEMENT RING JOURNAL:
Winnipeg Engagement Ring Journal 6: Princess Cut Rose Gold Engagement Ring
Winnipeg Engagement Ring Journal 5: Marquise Diamond Halo Engagement Ring
Winnipeg Engagement Ring Journal 4: Vintage Engagement Ring With Engraving
Winnipeg Engagement Ring Journal 3: Rose Gold Sidestone Engagement Ring
Winnipeg Engagement Ring Journal 2: Custom Diamond Halo Engagement Ring
Winnipeg Engagement Ring Journal 1: Winding Sidestone Engagement Ring
SaveSave
SaveSave
SaveSave
SaveSave
SaveSave