Omori Diamonds inc. specializes in creating beautiful custom engagement rings in Winnipeg. Book a free design consultation and meet directly with our designer and diamond expert to receive undivided attention in creating a unique and beautiful engagement ring "just-for-her"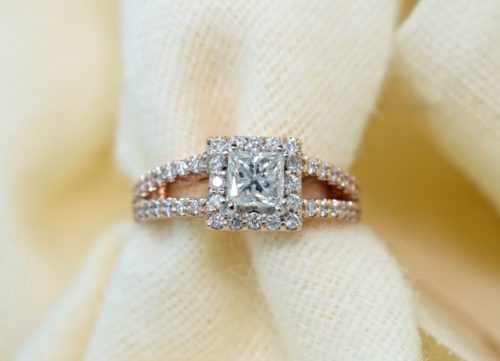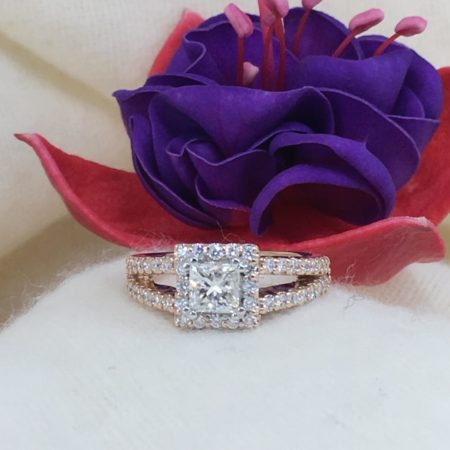 In this entry of our Winnipeg engagement ring journal we would like to show you a special design that we created for a special couple. This design is a beautiful split band rose gold engagement ring, featuring a bright and beautiful princess cut diamond. This design became a quick favourite on social media when we posted photos of it, and for good reason! Along with the spectacular centre diamond, this engagement ring also includes a number of dazzling smaller diamonds creating a halo around the centre stone and running down either sides of the split band. This creates a cascade of sparkles when looking at the ring from all angles.
Some quick info on Princess Cut Diamonds…
Next to round brilliant cuts, princess cut diamonds are one of the most popular diamond shapes. As a relatively new shape, the princess cut has been around since the 1960's and features the classic square shape. It is a great choice for those who love the sparkle of the traditional round diamond but wish to add a unique, yet versatile flare. As shown by this design, the princess cut diamond is also an excellent choice for contoured bands that curve inward from the centre stone, as it allows for a seamless flow to the rings silhouette.
Let the design begin…
After selecting the beautiful diamond we began discussing ideas for the perfect engagement ring design. The client discussed a number of features that he wished to include, and so we began by creating some CAD (computer aided design) images. These computerized renderings give the client an idea of what the engagement ring will look like from a variety of angles. This is very helpful because it allows us to make any desired changes prior to having the design printed out in wax.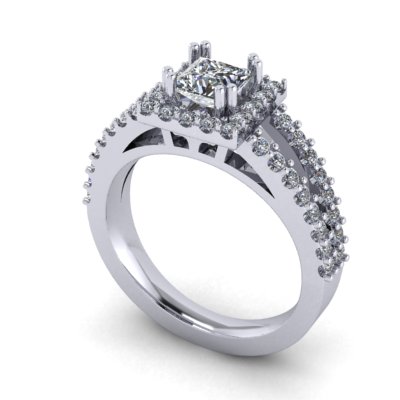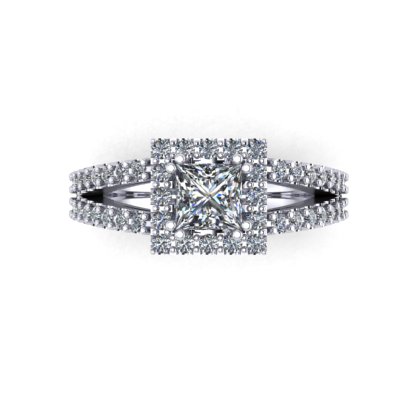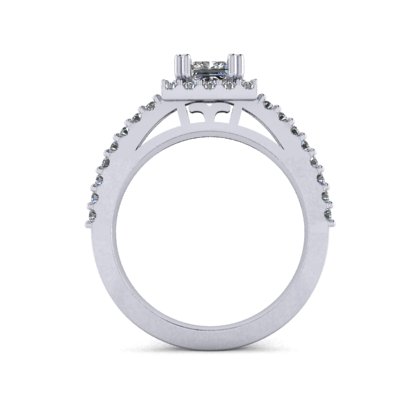 As you can see, the shape shown in the CAD renderings is incredibly accurate to the final design.
Let's craft it in rose gold…
The client discussed the option of creating the engagement ring in rose gold. We happily obliged as this is an excellent and unique choice! Rose gold is incredibly durable and looks wonderful in a variety of styles, especially vintage engagement rings.
Be sure to also check out our article on Rose Gold Engagement Rings
Finalizing the design…
Once the client approved the CAD images, we printed out the shape in wax for them to approve as well. After being given the go ahead, our expert team began crafting the custom engagement ring from the ground up. The design was cast in rose gold, at which point our master goldsmith polished the design and set the diamonds in place. Once the engagement ring was completed, the client picked up their design and the rest is history! As we expected, both he and his fiancé were extremely thrilled with their unique custom Omori design!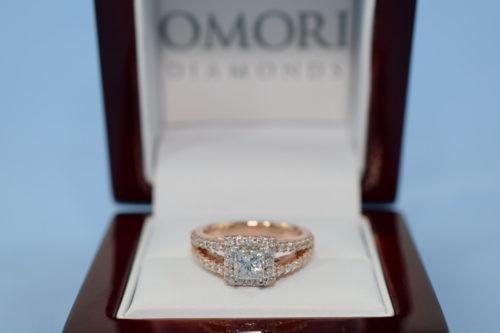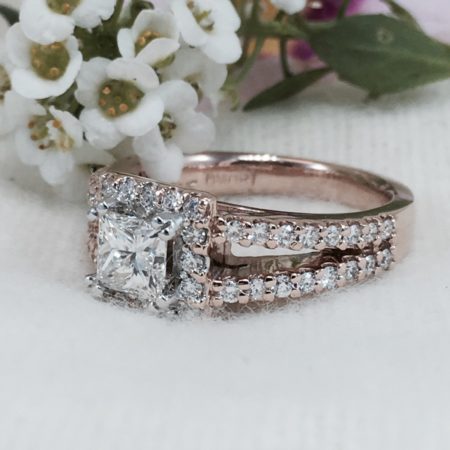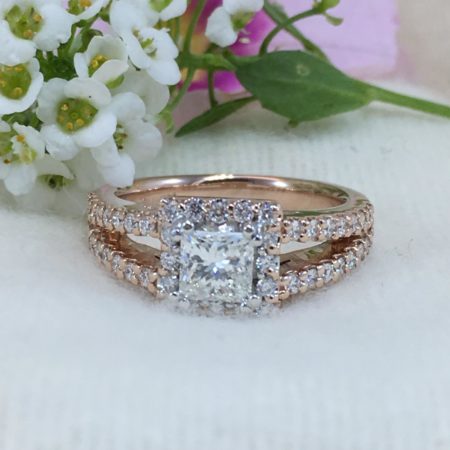 Want a closer look at this custom Omori Diamonds inc. engagement ring design? Check out the video HERE!
FREE CUSTOM ENGAGEMENT RING CONSULTATION IN WINNIPEG
Are you ready to design a custom diamond ring from scratch? Book a free diamond ring design consultation with Omori Diamonds inc. now!
Check out previous entries from our Winnipeg Engagement Ring Journal:
Winnipeg Engagement Ring Journal 5: Marquise Diamond Halo Engagement Ring
Winnipeg Engagement Ring Journal 4: Vintage Engagement Ring With Engraving
Winnipeg Engagement Ring Journal 3: Rose Gold Sidestone Engagement Ring
Winnipeg Engagement Ring Journal 2: Custom Diamond Halo Engagement Ring
Winnipeg Engagement Ring Journal 1: Winding Sidestone Engagement RingWinnipeg Engagement Ring Journal 4: Vintage Engagement Ring With EngravingWinnipeg Engagement Ring Journal 4: Vintage Engagement Ring With EngravingSaveSave
SaveSaveSaveSave
SaveSaveSaveSaveSaveSave