Omori Diamonds inc. specializes in creating beautiful custom jewellery, wedding rings and custom engagement rings in Winnipeg. Book a free appointment and meet directly with our jewellery designer to receive undivided attention in creating a unique and beautiful engagement ring "just-for-her".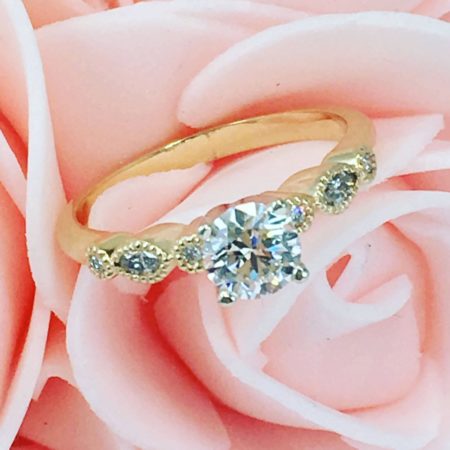 Welcome back to our Winnipeg engagement ring journal! In this entry we are going to show you a spectacular custom vintage engagement ring which features a beautiful round brilliant centre diamond with hearts and arrows. In this journal entry we will walk you through the jewellery design process that goes into the creation of a custom engagement ring.
 Beginning the design process…
As is often the case, we began the creation of this engagement ring by discussing a variety of creative ideas and options with our client. Once we were able to get an idea of the style they were going for, we began by creating some computerized renderings for the client to view and approve.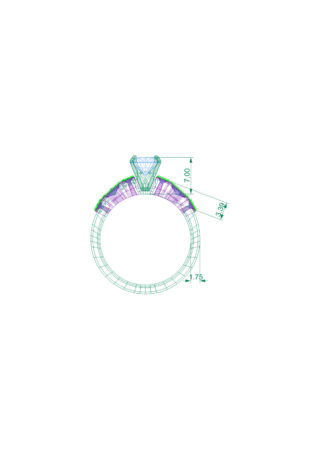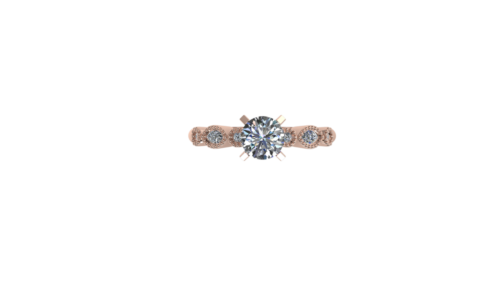 As you can see from the above images, the CAD renderings give us a detailed layout of the specific proportions of the engagement ring, as well as some realistic multi-angle shots. This is a valuable stage in the custom jewellery design process, because it allows the client to make any desired changes to the design of their custom engagement ring. Once this stage is completed we create the shape in wax which is then cast in precious metal.
Learn more about our custom jewellery design process
Everyone loves vintage engagement rings!
Vintage engagement rings have become increasingly popular in the past few years, most likely due to the popularity of movies and TV shows such as downtown abbey and the great gatsby. Common features of vintage styling include such things as detailed engraving, and winding vine like details. Ceylon Sapphires can also be a unique feature in vintage engagement rings.
Check out our Winnipeg engagement ring journal entry # 8: Vintage Sapphire Engagement Ring
Finalizing the design…
With the CAD renderings approved, we went on to have the design cast in yellow gold. Once this stage was completed, our expert goldsmith set the diamonds and polished the design. As you can see, this design also features three smaller diamonds down the side. This allows for extra sparkle when viewing the ring at different angles when it is worn on the hand.
With the engagement ring completed, we contacted our client to come and pick up his custom Omori design. Once again, we are proud to say that both he and his fiancé loved the design! View some photos of the design below: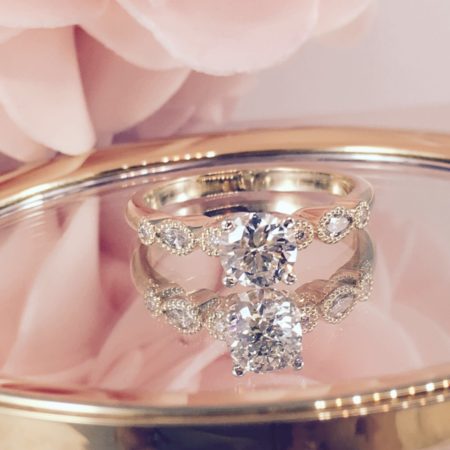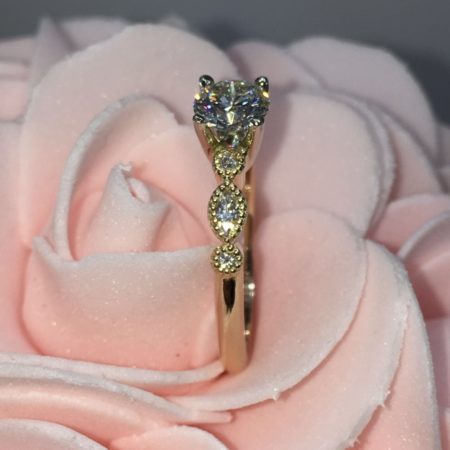 Want to see more of this custom vintage engagement ring design: view the video HERE
Love vintage style engagement rings? Check out journal entry 4, on our yellow gold vintage engagement ring.
FREE ENGAGEMENT RING DESIGN CONSULTATION IN WINNIPEG
Are you ready to design a custom diamond engagement ring from scratch? Book a free  ring design consultation with Omori Diamonds inc. now!
CHECK OUT PREVIOUS ENTRIES OF OUR WINNIPEG ENGAGEMENT RING JOURNAL:
Winnipeg Engagement Ring Journal 9: Spiral Solitaire Engagement Ring and Wedding Ring
Winnipeg Engagement Ring Journal 8: Vintage Sapphire Engagement Ring
Winnipeg Engagement Ring Journal 7: Platinum Princess Cut Diamond Engagement Ring
Winnipeg Engagement Ring Journal 6: Princess Cut Rose Gold Engagement Ring
Winnipeg Engagement Ring Journal 5: Marquise Diamond Halo Engagement Ring
Winnipeg Engagement Ring Journal 4: Vintage Engagement Ring With Engraving
Winnipeg Engagement Ring Journal 3: Rose Gold Sidestone Engagement Ring
Winnipeg Engagement Ring Journal 2: Custom Diamond Halo Engagement Ring
Winnipeg Engagement Ring Journal 1: Winding Sidestone Engagement Ring
SaveSave
SaveSave
SaveSaveSaveSave
SaveSave
SaveSave
SaveSave