We are a Winnipeg custom jewellery designer specializing in fine engagement rings, diamond rings, wedding rings and all forms of custom jewellery . Book a free appointment with expert designer Jim Omori to receive undivided attention in creating your masterpiece.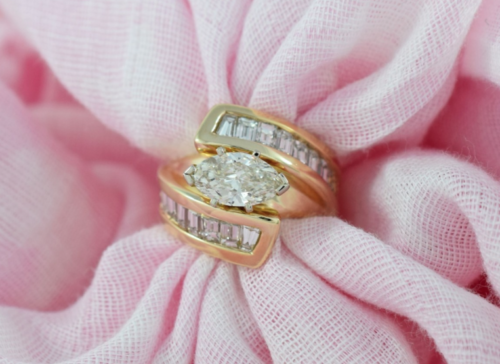 In todays entry of our Winnipeg custom jewellery designer journal, we are going to show you a design and we are especially proud of. This design was created by Jim Omori, as a tribute to the elegance and rotational movement of figure skating. Jim has often looked to a variety of art forms, figure skating in particular, for inspiration. In this case, the original jewellery design was created by Jim and then modified to fit the client's individual preferences and family diamonds.
The inspiration…
The Omori triple axel ring design was influenced by the rotational movement of figure skaters. This has long been a favourite inspiration for Jim, as many ring designs leaned themselves to spiral shapes.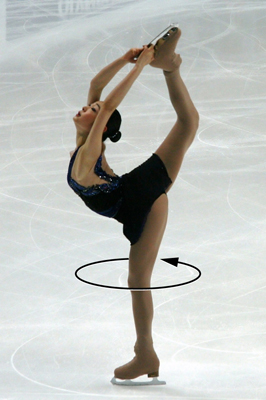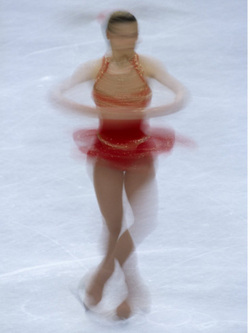 In order to create the spiral movement, Jim focused on designing a tapered band lined with side diamonds. This creates the impression of constant sparkle when the ring is viewed from all angles. The band is also crafted to wrap around either side of the centre stone creating a partly closed halo shape.
The first design images…
After roughly sketching the design by hand and then carving a simple wax model, we created some computer aided design (CAD) images. As you can see, the original images differ somewhat to the final design. In many cases, computer images serve as a means of allowing client's to approve and make changes to their custom jewellery design, before it is created in wax and then cast in precious metal.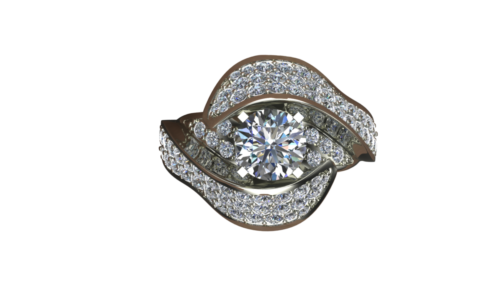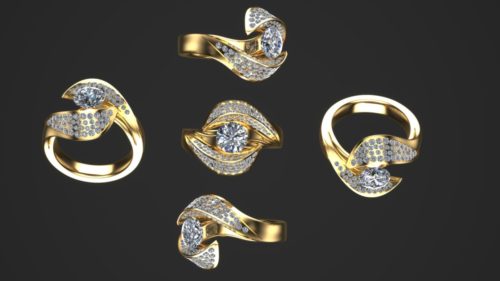 Some creative adjustments…
As many artists will tell you, working within boundaries can be one of the most useful ways to enhance creativity. In the case of the triple axel design, we worked with using a client's family diamonds. In this case she had a number of baguette shaped diamonds as well as a large centre marquise shaped diamond.
The marquise diamond was used in place of the round centre stone, and we used the baguette diamonds to line the tapered band in place of the round diamond clusters in the original design.
A little bit about marquise shaped diamonds…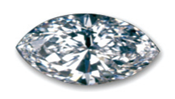 The marquise shaped diamond cut dates back to France during the 1740's. The shape is believed to have been named after the Marquise de Pompadour, a mistress of King Louis XV, as it was said to resemble the shape of her smile.
The Marquise shaped diamond is the longest diamond for a given carat weight and for that reason it can really give you more sparkle for your buck. The marquise diamond also looks great in a variety of vintage and halo engagement ring styles.
Learn More about marquise shaped diamonds on the G.I.A. website
Check out our Winnipeg Engagement Journal #5: Marquise diamond halo engagement ring. 
SaveSave
The final ring design…
Once the client approved the new design, we had it cast in yellow gold and our master goldsmith polished the design and set the diamonds. We are very proud to say that she loved her design and was thrilled with how we were able to incorporate her family diamonds.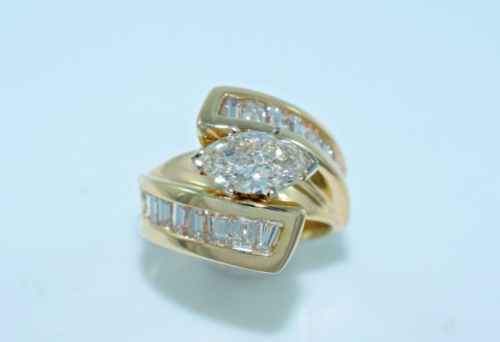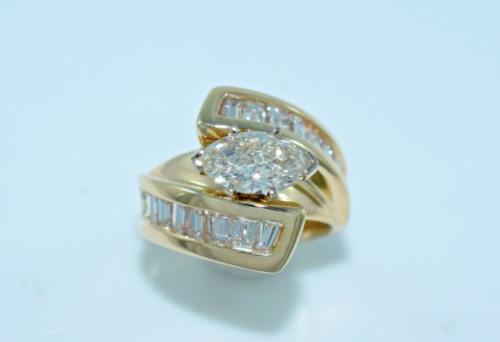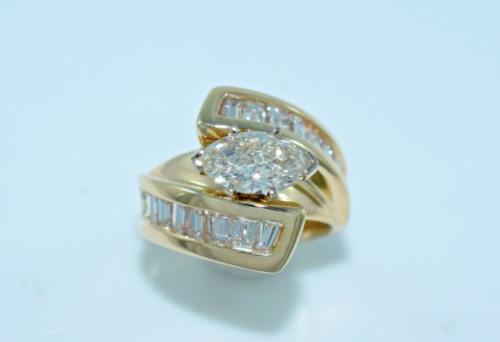 Want to see more of this custom ring design: view the video here
FREE CUSTOM JEWELLERY DESIGN CONSULTATION IN WINNIPEG
Are you ready to design an exceptional piece of custom jewellery from scratch? Book a free  jewellery design consultation with Omori Diamonds inc. now!
SaveSave
CHECK OUT PREVIOUS ENTRIES OF OUR WINNIPEG ENGAGEMENT RING JOURNAL:
Custom Jewellery Winnipeg Blog: Ruby and Platinum Custom Ring 
Winnipeg Engagement Ring Journal #10: Yellow Gold Vintage Engagement Ring
Winnipeg Engagement Ring Journal #9: Spiral Solitaire Engagement Ring and Wedding Ring
Winnipeg Engagement Ring Journal #8: Vintage Sapphire Engagement Ring
Winnipeg Engagement Ring Journal #7: Platinum Princess Cut Diamond Engagement Ring
Winnipeg Engagement Ring Journal #6: Princess Cut Rose Gold Engagement Ring
Winnipeg Engagement Ring Journal #5: Marquise Diamond Halo Engagement Ring
Winnipeg Engagement Ring Journal #4: Vintage Engagement Ring With Engraving
Winnipeg Engagement Ring Journal #3: Rose Gold Sidestone Engagement Ring
Winnipeg Engagement Ring Journal #2: Custom Diamond Halo Engagement Ring
Winnipeg Engagement Ring Journal #1: Winding Sidestone Engagement Ring
SaveSave
SaveSave
SaveSave
SaveSave