Omori Diamonds inc. specializes in creating exceptional custom engagement rings in Winnipeg. Book a free appointment and meet directly with our designer and diamond expert to receive undivided attention in creating a unique and beautiful engagement ring "just-for-her"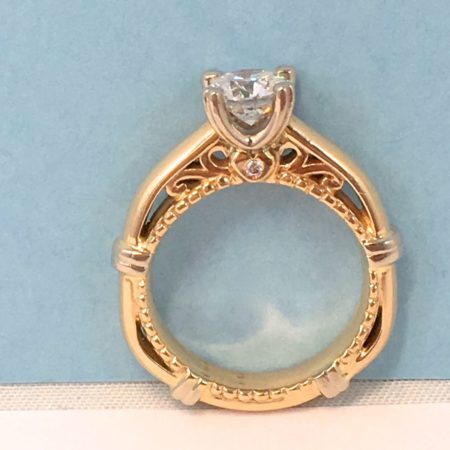 In this entry of our Winnipeg custom engagement ring series, we are going to show you a beautiful vintage engagement ring design that we created for a special couple. This design is special because it features very intricate engraving and styling all throughout the band. Another aspect that makes this particular engagement very unique is the fact that it actually involves two different shaped bands, with the smaller band inside of the larger, joined together with the vintage style designs.
It started with a diamond…
The design process began when the client selected a bright and beautiful VVS centre stone of excellent cut, symmetry and polish. This means that the diamond is of superb clarity with absolutely no visible blemishes or inclusions whatsoever. Furthermore, the exact proportions and angles of the diamond have been analyzed under the most advanced equipment available to ensure that the diamond is cut optimally
*** To view 360 degree videos of beautiful G.I.A. certified diamonds, check out out loose diamonds page.
Now on to the design…
After selecting the diamond, the client showed us some images of engagement rings he had collected to be used as inspiration for the design. As is often the case, we had some 3D CAD (computer aided design) images created for the client to view. CAD renderings are an excellent way to give the client an idea of what their engagement ring will look like when it is completed. It also gives them an opportunity to suggest any changes to be made prior to having the design printed out in wax and then cast in gold.
A few small changes…
After looking at the original images, the client suggested that the top portion of the band was too rounded. This was no problem for our expert design team who easily touched up the blueprints for the design and we were able to provide the client with new images which were exactly to his liking. A true custom experience!
The last stage…
Once the client approved the design of his custom vintage engagement ring we had the design cast in yellow and white gold and our expert goldsmith set the bright and beautiful diamond. The final product turned out absolutely beautifully and the client was very happy. About a week later he returned with his fiancé. Needless to say, she was very excited and thrilled with her custom Omori engagement ring, which had been created just for her.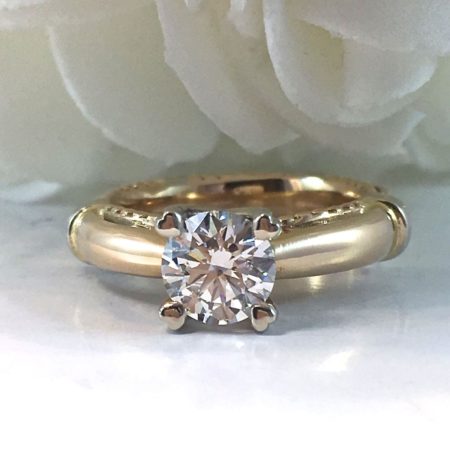 Want a closer look at this design? Check out the video HERE!
FREE CUSTOM ENGAGEMENT RING CONSULTATION IN WINNIPEG
Are you ready to design a custom diamond ring from scratch? Book a free diamond ring design consultation with Omori Diamonds inc. now!
SaveSaveSaveSave
SaveSave
SaveSave
SaveSave
SaveSave