At Omori Diamonds inc. we specialize in crafting fine engagement rings and custom jewellery in Winnipeg. Book a free appointment and meet directly with Jim Omori to receive undivided attention in creating your masterpiece.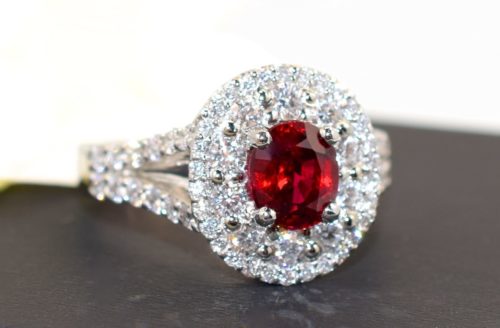 In todays entry of the Omori Diamonds inc., Winnipeg custom jewellery blog we are going to talk about a spectacular design we created for a client. This design is a custom ruby and platinum anniversary ring which features the brightest VVS diamonds, all around the halo and band. Another unique and special feature of this custom ring design is the heart shaped diamond on the bridge.
A little bit about Rubies…
Rubies are a precious gemstone, known for their bright red colour, which belong to the mineral family, corundum. Corundum is a crystalline form of aluminum oxide and also includes sapphires as well. Like sapphires, rubies are incredibly hard and durable and score a 9.0 on the Mohs scale of mineral hardness. Diamonds score a solid 10.0 which means that both rubies and sapphires make an excellent choice for anniversary and engagement rings, due to their everlasting durability.
At Omori Diamonds inc., one of our defining features is our access to some of the most reputable and well known gem dealers in North America. For this reason we are often the first choice for clients looking to create pieces of custom jewellery which feature a variety of exotic sapphires and rubies. Here are a few shots of some custom rings we have created which feature these beautiful gems.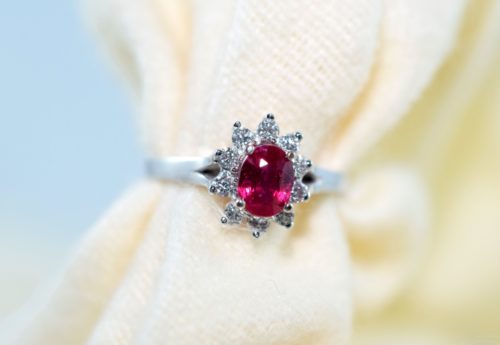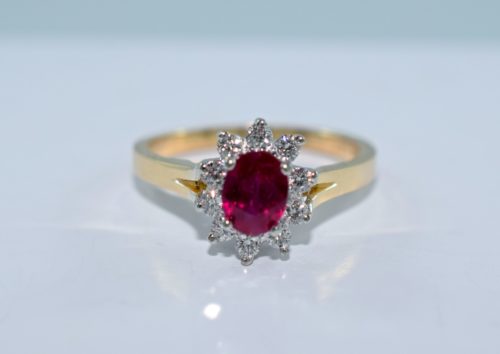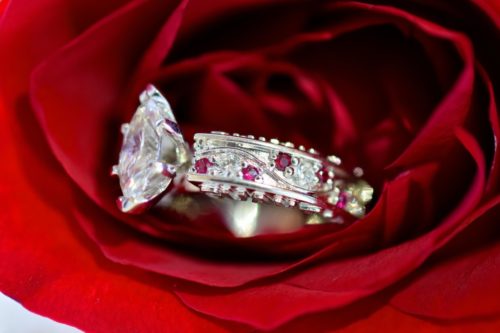 Check out the top 10 most famous pieces of celebrity gemstone jewellery.
The creation process…
The client came to us with some spectacular ideas for a unique gemstone ring, to be given as an anniversary gift. He discussed his desire for the ring to feature a ruby with a deep red colour. We were able to source a number of options for him to choose from, and once the stone was selected we began to design the ring around that chosen stone.
The client showed us some images he had collected to be used as inspiration for his custom jewellery design, which we took into account as we began creating CAD (computer aided design) images for him to view and approve.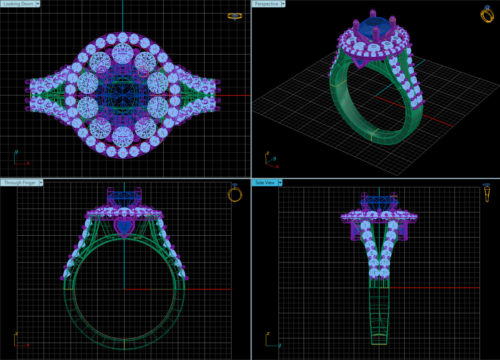 As you can see from the above image, the initial CAD renderings give a detailed look at the exact proportions and measurements of the rings. These can be thought of as blueprints for the shape of the design which is usually 3D printed out in the form of a wax model.
Below, you will see some more realistic CAD renderings of the final design. These give the client a more detailed look at how their custom jewellery piece will look when it is completed and will also give them the opportunity to make any desired changes to their design before it is finalized.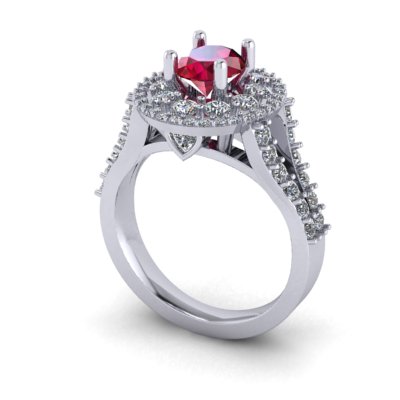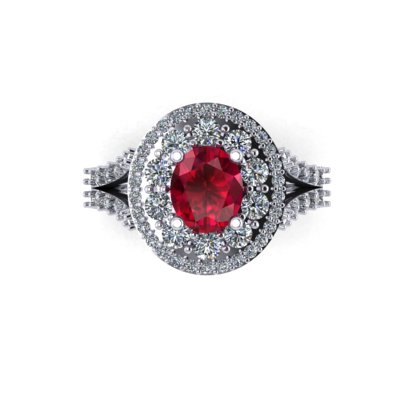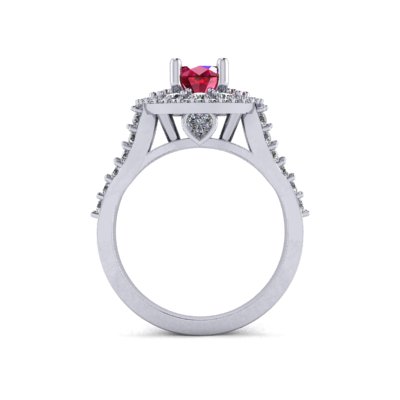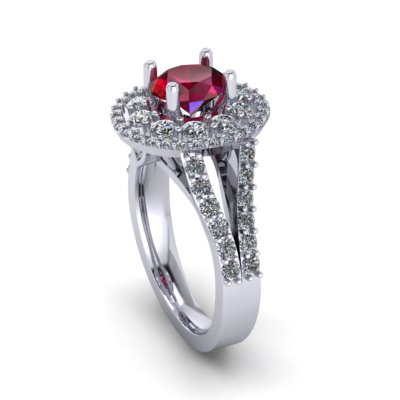 The wax model…
After the client approved the CAD images, we created the design in wax. This allowed the client to see his design come to life and to insure that it was exactly how he envisioned.
The casting…
Once the client approved his design, we move on to the next important stage in the custom jewellery design process, the casting. This involves casting the shape in precious metal so that it can be polished by our master goldsmith who then sets the stones and completes the ring.
The final design
Once the ring was polished and all the precious diamonds and stones were set, we contacted our client to come pick up his custom Omori design. It is always very rewarding for us to see how excited and thrilled our clients are when they pick up their jewellery. We were also very honoured and happy to know that our client's wife loved her ring as well!
The final designThe final designSaveSaveSaveSaveSaveSave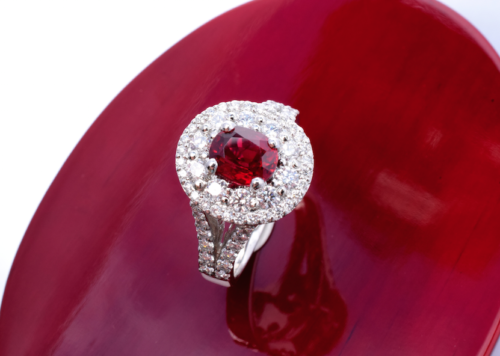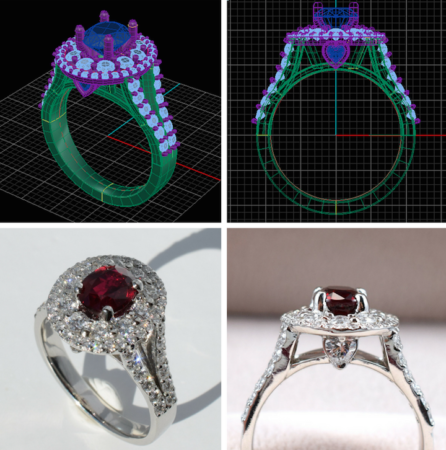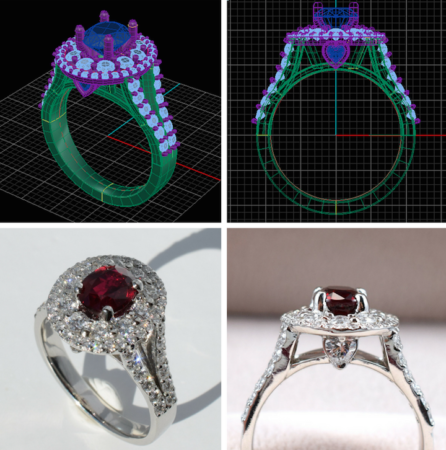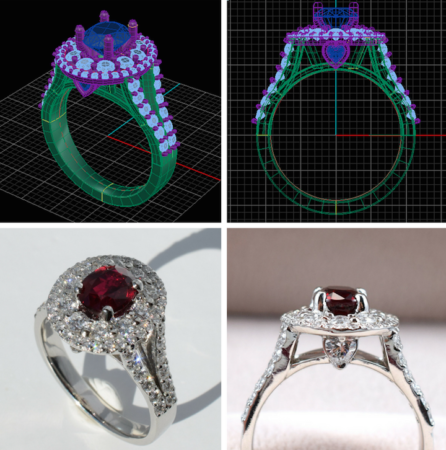 SaveSave
Want a closer look at this custom jewellery design?: view the video here.
Love gemstone rings? Check out our Winnipeg Engagement Ring Journal #8: Vintage Sapphire Engagement Ring
FREE CUSTOM JEWELLERY DESIGN CONSULTATION IN WINNIPEG
Are you ready to design a custom jewellery piece from scratch? Book a free jewellery design consultation with Omori Diamonds inc. now!
CHECK OUT  ENTRIES OF OUR WINNIPEG ENGAGEMENT RING BLOG:
Winnipeg Engagement Ring Journal entry 8: Vintage Sapphire Engagement Ring
Winnipeg Engagement Ring Journal entry 7: Platinum Princess Cut Diamond Engagement Ring
Winnipeg Engagement Ring Journal entry 6: Princess Cut Rose Gold Engagement Ring
Winnipeg Engagement Ring Journal entry 5: Marquise Diamond Halo Engagement Ring
Get a closer look at this engagement ring design: view the video here.Get a closer look at this engagement ring design: view the video here.SaveSave
SaveSave
SaveSave
SaveSave
SaveSave
SaveSave
SaveSave